Renovations to your Oahu Vacation Rental to Maximize Your Income
Renovations are inescapable if you want to boost the income of your rental in Oahu. They make your property more comfortable and appealing for guests. Places like Waikiki and Oahu are popular spots for vacationers, who are more likely to stay in well-maintained and up-to-date short-term rentals.
Renovations redefine your property. Not only do they make your rental attractive, but they also add to the strength of its structure. Renovating a rental property also minimizes the chances of frequent breakdowns and repairs which helps improve overall guest experience.
Oahu Vacation Rental Renovations for Maximizing Your Income
All of these strategies work hand in hand to boost the return on investment (ROI) of your Oahu property, especially if it is located in a pleasant and happening neighborhood on the island. Here are some useful tips that can help you to boost ROI through renovation.
Renovate the Kitchen and Upgrade Appliances
A bright kitchen with spacious cabinets, updated appliances, and countertops as well as good quality cookware and dining sets is a plus point for your Oahu rental. While on vacation, your guests may spend a lot of time in the kitchen cooking, dining, cleaning, etc. so, focus on modernity and convenience.
Make sure you install upgraded home appliances such as an eco-friendly refrigerator, microwave, cooktop, etc., to make their stay more convenient for your guests. You need to specifically look at the plumbing in the kitchen to find and replace leaky sinks and faucets.
Not all rentals require a gourmet kitchen. Adding a modern touch can definitely help impress your guests. If you can't afford a complete remodel, make some inexpensive changes such as adding a backsplash, updating light fixtures, replacing a faucet, etc.
Hygiene comes first while deciding the vacation rental, and tourists are very picky about the cleanliness of a place, especially when vacationing for a longer time on oceanfront property.
Consider remodeling your bathroom and replacing old showers, tubs, soap trays, toilets, bidets, lighting, sinks, and faucets with new stylish models. This increases the aesthetic appeal of the bathroom and feels much nicer than stained, cracked, and dirty bathroom stuff.
Renters always look for up-to-date bathrooms, so make it a point to include compact shelves, a vanity, more counter space, bathroom essentials, air purifiers, and toiletries as a part of the remodel. Touches like these will show your care for your guests and get you good reviews, which in turn will bring in more guests and hence boost ROI.
Redecorate Your Living Room
Freshly painting walls is one of the quick and easy ways to add a fresh and cheerful aspect to your Oahu rental. Replacing old curtains with fresh printed designs can help to change the interior of the unit.
Oahu has plenty of natural light pretty much all around the year, so spend some time cleaning and washing windows, which will naturally illuminate the living room and offer your guests magnificent views of the Hawaiian ocean. If your hardwood floors are cracked or damaged, carpeting can help you to cover up those flaws.
Add Work-from-Home Essentials
In our modernized world, adding essentials such as a Wi-Fi connection, cozy mattresses, and comfortable pillows will make your Oahu vacation rental homey for your guests. If you have a good budget, you can renovate the furniture to have a dedicated office desk, comfy sofas in the living room, bright kitchen ranges, and so on.
Curb appeal for vacation homes is an important factor in property renovation. A freshly mown green lawn with some nice patio furniture will do wonders for your rental. Make sure you remove existing weeds and landscape the yard to add that X-factor to your Oahu rental. Consider buying flower plants and small attractive bushes that will make your yard colorful. You can also illuminate walkways and driveways with ambient lights.
A well-maintained and fresh property is very appealing to renters who are looking to have a fun, dynamic holiday in our Gathering Island. To ensure that your Oahu property stays up-to-date, consider hiring a full-service rental property management company, like Happy Vacations. We provide all Oahu vacation rental management and hospitality services, ensuring that you meet your ROI objectives, even as your renters and guests find their slice of paradise in your home.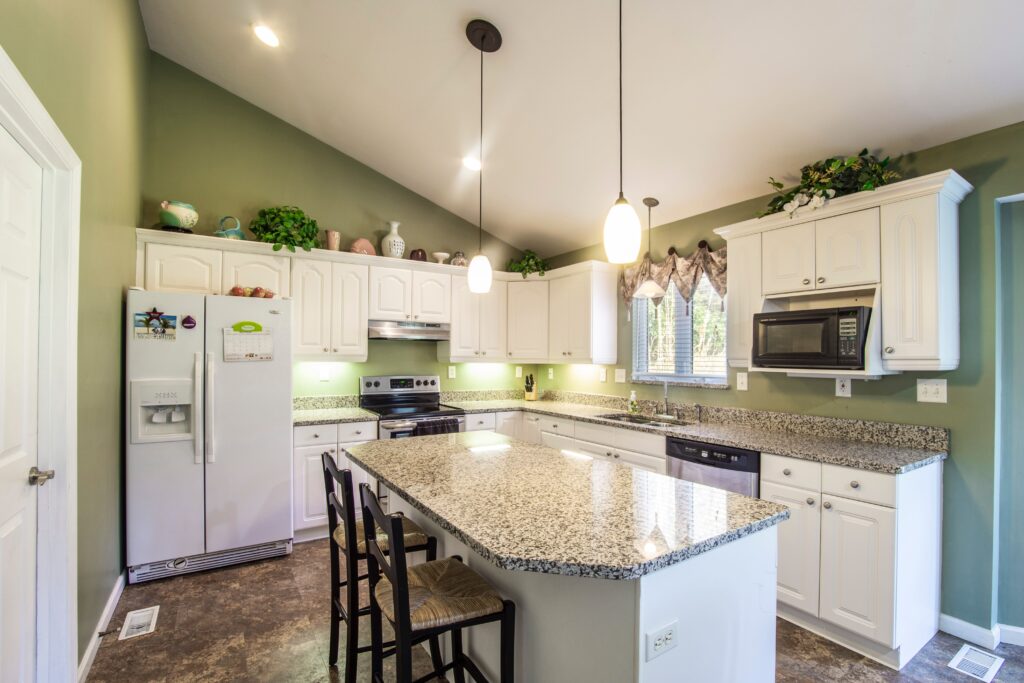 Get in touch with us at Happy Vacations for more guidance about renovating vacation rental or renovating a rental property to improve return on investment from your Oahu property.