Tips on Filling Gaps and Vacancies Between Oahu Guests
Short-term vacation rentals are thriving in Hawaii. They can be a great real estate investment. However, as an investor, you can't afford frequent vacancies as it may open you up to potential financial risks and losses.
Avoiding vacancies in rental property is one of the most important key factors that will help you to grow your business. Filling the gaps and keeping your property occupied helps you to boost return on investment (ROI) and maximize your income. Although a 100% occupancy rate for your rental property is not always possible, you can surely get close to achieving it.
Here are some important tips that can help to increase bookings for your Oahu vacation rentals and minimize vacancies.
Keep Your Property Well-Maintained
Guests expect clean and well-maintained properties, so, it is essential to keep your vacation rental clean, homey, and well-maintained for your guests. Make sure you periodically run a detailed inspection and fix the repairs immediately.
To create a good impression on your guests, consider renovating your property with new curtains, carpet, fresh wall paint, and a clean floor. Curb appeal is another priority. Make the exterior more attractive and spacious. Try to install a lawn and some lights to make the exterior impressive as well.
Advertise the property on real estate and tourism platforms
Marketing is an essential part of any business. A good advertisement that highlights the key features will promote your property. You can follow both traditional and modern ways of marketing using platforms like VRBO or Airbnb, but make sure you give out more information about location, nearby places, and transportation in your advertisement. Use platforms such as social media, travel blogs and vacation rental forums. Also, feature distinct facilities and amenities at your rental property.
You may use referrals from friends, tenants, and fellow investors. Make sure you inform others about the vacancy in your rental so that they may refer you to someone who needs accommodation. Effective advertisement will create a positive impact and lower the vacancy rate of your Oahu rental.
Provide the Best Services
The services in your rental can distinguish your unit from that of others. Not just primary, but make sure you provide the best services to your customers. Include internet facilities as well. Be timely with appointments, calls, and running repairs.
Deliver the best experience to your guest that will earn you good reviews, and the demand for your rental will grow. It will ultimately result in a low vacancy in vacation rental.
Create Exciting Offers
Offers and discounts always attract people's attention. To get more bookings, you can include special offers, promotions, and discounts to maximize your reach. It can help you in customer retention for a long time and minimize the vacancy rate of your rental property, in addition, maximize the renter traffic.
Include Exclusive Amenities as Add-Ons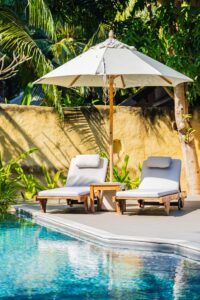 If you have some budget in hand, spend it on setting up modern amenities in the unit. Amenities are a striking feature that earns enough bookings for your rental. It will not only boost the value of your property but also make your listings competitive. Consider adding amenities such as air conditioning (AC), laundry facilities, swimming pool, lanai/balcony, fitness centers, work-from-home office space or desk, and updated kitchen interiors in the advertisement.
All the above-mentioned tips can aid in reducing the vacancy rate and increase more profit and retention of your Oahu house guests. However, managing vacation rental on your own is challenging. It demands a lot of care, attention, and expertise.
Happy Vacations is a leading company in Oahu and has years of experience in managing vacation rentals in Hawaii. Our diversified team holds expertise in customer service, property management, marketing, and more. If you need any help in gaining more bookings for your Oahu vacation rental, feel free to contact us at Happy Vacations.